Early Life and Education
A. Vaidyanatha Iyer was born on 16 May 1890 at Vishnampettai village, Thanjavur district, in then Madras Presidency as the second of eight children in a Tamil brahmin family to Arunachalam Iyer and Lakshmi Ammal.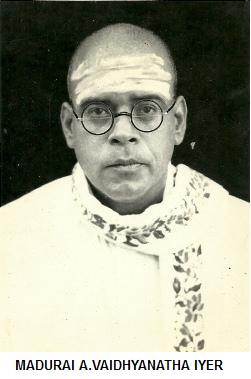 Arunachalam Iyer served as Mathematics teacher in Pudukkottai Maharaja's school. After retirement he settled down in Madurai with his family.
AV Iyer studied in Madurai Sethupathi High School, where he was dear to all teachers. He had an unblemished track record as a distinguished student throughout his education. In the year 1909, AV Iyer completed his SSLC, standing second in the state for overall performance and topping in mathematics. For these he was awarded a gold medal by the school.
Later, AV Iyer completed his FA in Madura College, again topping in mathematics and securing the fourth rank at the state level. He was awarded the prestigious Neelakanda Sastri gold medal along as well as the Fisher gold medal by the college.
At the age of 18, right after his FA examinations, Iyer's parents conducted his marriage with 9 year old Akilandam, who remained a perfect partner to him throughout his life.
Iyer completed his BA with first class in the year 1914 from Madras Presidency College.
He served as a teacher for a year at Bishop Heber Higher Secondary School in Trichy and for a year at Masoolipattinam Hindu Higher Secondary School, before qualifying himself in law and acquiring the status of Pleader.
Advocate Vaidyanatha Iyer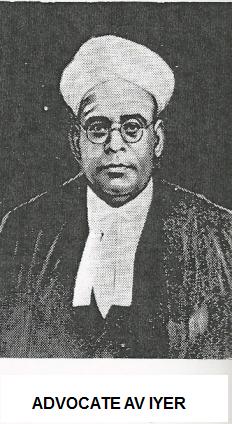 AV Iyer started his practice as a Junior under Mr. Natesa Iyer, a well-known lawyer in Madurai. Within a year Natesa Iyer realized AV Iyer's abilities and encouraged him to start his own law practice. Natesa Iyer treated AV Iyer like his own son and wished him well and they continued to be in constant touch.
AV Iyer started his practice and appeared for cases in the courts of Madurai, Pudukottai and Tirunelveli. He took on only genuine cases and was sensitive to people's needs. He saw to it that the client's money and time were spent meaningfully. Very soon he gained a good reputation in his own circle as well as with the public.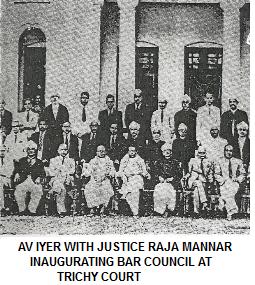 The points of law raised by Iyer and his arguments often astounded even the judges and received their praise. Iyer's fame spread and cases started piling up. His earnings multiplied. He selflessly took care to train his juniors to make them more competent. As the saying goes, 'a true leader makes more leaders'. Iyer also treated his juniors with affection and as members of his own family.
Active Participation in Freedom Struggle
While studying in Madras Presidency College, Iyer was inspired by the widespread patriotism in the nation. Motivated by the articles and speeches of national leaders, Iyer involved himself directly in the freedom struggle.
One day Iyer attended a public speech by national leader Bipin Chander Pal at Chennai beach. When this news reached the Principal of the college, who was British, Iyer was punished by being made to stand up on a bench from morning till evening for two weeks. Iyer went through the punishment with calmness and great resolve.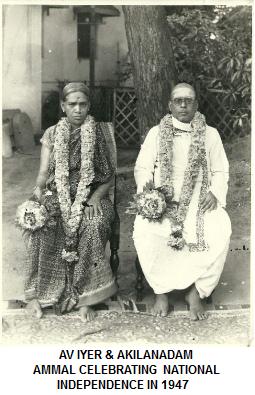 Mahatma Gandhi visited Madurai for the first time in 1919. During his second visit on 22 September 1921, Gandhiji dramatically connected with the local farmers by draping a small dhoti around his waist just like them. His address to the public inspired numerous young attendees who later became leaders and social activists. Iyer was one among them.
In 1920, when Gandhiji announced the Non-Cooperation Movement, Iyer wanted to leave his lucrative practice as a lawyer and join the Indian National Congress as a full-time worker. Chittaranjan Das, who was touring South India with Gandhiji, suggested to Iyer that he could continue his legal practice and also involve himself part time in the Indian National Congress, inspiring the youth and more volunteers to join the party. From that day onwards, Iyer managed the twin challenges of being an advocate as well as a political and social activist.

Following the Non-Cooperation Movement, Gandhiji requested volunteers to take part in activities like Khadi promotion, Hindu-Muslim cooperation, Dalit empowerment and the abolishment of alcohol. Volunteers started promoting Khadi cloth in Madurai and Iyer introduced the hand-spinning wheel for making handspun Khadi cloth in Madurai and the villages nearby.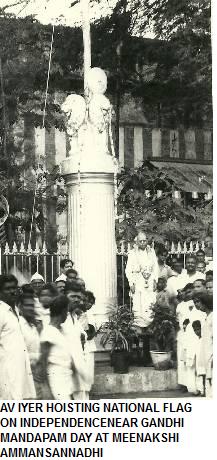 Iyer visited numerous villages, talked to the villagers about Khadi and guided them in the production of Khadi cloth. With the help of young volunteers, he carried Khadi clothes on his own shoulders to boost the sale of Khadi.As a result, in 1924, Madurai district topped the entire state in Khadi manufacture and sales. Despite several hurdles and problems, Iyer carried on the Khadi movement tirelessly.
The then Tamil Nadu Congress leader Dr. S. Varadarajalu Naidu presented the prestigious silver hand-spinning wheel to Madurai district for standing first in the manufacture of Khadi. The credit for this goes mainly to Iyer.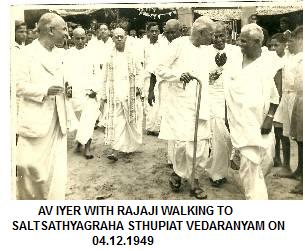 Parallel to the Khadi movement, Iyer spread education and strove to abolish untouchability in Madurai and its neighbouring villages. Iyer fought for the cause even before the formation of the Harijan Sevak Sangh and other such social reformist Institutions.
In December 1929, the annual Indian National Congress Conference was held in Lahore, presided over by Pandit Jawaharlal Nehru. At this conference, it was decided that attaining complete independence was the primary objective of the party. Following this, talks started between Gandhiji and the British government. Gandhiji requested the British to withdraw the salt laws. The British government rejected his pleas. Hence, Gandhiji decided to conduct the Salt March from Sabarmathi Ashram to Dandi.
Rajaji met Iyer in Madurai to discuss how to implement this decision on the Salt March in the southern region. At the end of the discussion, it was decided that in South India, the march would start from Tiruchirappalli and end at Vedaranyam. It was planned that the preparation of salt would take place at Vedaranyam. The details of the march were planned and finalized by Iyer.
At the end of the Dandi March, Gandhiji was arrested by the British government for breaking the salt law and imprisoned for six years. Despite the hurdles caused by British government, the march in South India started on 13 April 1930 at Tiruchi and ended 15 days later at Vedaranyam. Rajaji, who made salt there, was arrested and put in jail. The British government enforced Section 144 all over India.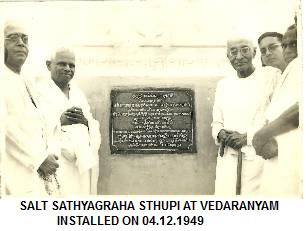 As instructed by Rajaji, Iyer did not participate in the procession. Instead, he went along with Rajaji as an observer. After Rajaji's arrest Iyer and other leaders continued the Salt March ignoring the ban orders (Sec. 144).
While Iyer was addressing a public meeting, the police suddenly entered the place and tried to disperse the crowd. They attacked the crowd with flogger batons. They also attacked Iyer, pushed him off the stage and dragged him for nearly a furlong (about 200 m) on the ground. A little later, those arrested were taken to Tiruchirappalli by lorry and imprisoned for six months. Iyer was released from prison only after the Gandhi-Irwin Pact was signed in 1931.
In 1932, Gandhiji re-started the civil disobedience movement. Following this, Iyer led the anti-liquor campaign and the boycott of foreign goods in Madurai. Iyer bore the expenses incurred for these campaigns out of his own personal earnings.
Gandhiji was arrested and imprisoned. Protesting Gandhiji's arrest, a public meeting was organized in Madurai. As Iyer was speaking at the meeting, police entered and read out Section 144. Iyer was arrested for condemning the act of the police. The court ordered one year's imprisonment in Vellore jail and a fine of Rs 500 for Iyer. The police decided to auction his car to recover the fine amount. But nobody from the public came forward to buy Iyer's car when it was put on auction. This incident is a clear indication of the public's love and respect for Iyer.
Coming to know that the Congress Committee of Madurai did not have enough funds to continue the civil disobedience protests, Iyer, before leaving for Vellore jail, made arrangements through one of his trustworthy men to sell some of his family jewels to raise funds and continue the protests. But instead of being sold, they were pawned for Rs 7000/-. They were later recovered with Iyer's personal income.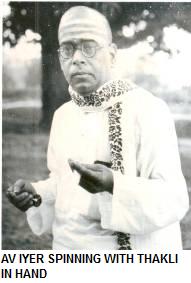 The economy was bad during the Second World War and it impacted the manufacture of handmade Khadi. Families involved in the business languished in poverty. Iyer used his personal earnings and arranged for food and medical help for the affected families. Iyer continued helping them until their business came back to normalcy.
At the same time, clashes started between Hindus and Muslims in various parts of the country, following the call given by Mohammed Ali Jinnah and his supporters demanding a separate nation for Muslims.
Iyer's contribution towards Hindu–Muslim unity was extraordinary.
In 1940, Pandit Jawaharlal Nehru was arrested and jailed in Kashmir. The people of Madurai protested and closed their shops in protest. At that time, due to some rumours spread by mischief-mongers, Hindus and Muslims gathered with weapons at the junction of South Masi Street and West Masi Street. On hearing this, Iyer immediately went to the spot and pleaded with both sides to calm down by falling on the ground with folded hands. The angry crowd slowly calmed down and dispersed. Thus, a major clash was averted by the brave, timely and Gandhian intervention of Iyer.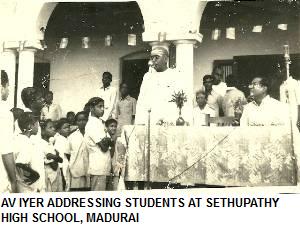 During the Congress Committee meeting at Pune in 1940, Gandhiji called for individuals to take part in Satyagraha. Iyer led the Satyagraha in Madurai. He selected the volunteers for the Satyagraha and sent them to participate in the protest.
Iyer's wife Akilandam Ammal too was sent as volunteer. She was arrested and imprisoned for three months in Vellore Jail. On 8 August 1942, Gandhiji announced the 'Quit India' Movement at the Indian National Congress public meeting in Bombay. The British government was enraged and jailed Gandhiji and several other leaders. Curfew was imposed all over India.
On hearing this, an incensed Iyer organized a public meeting at Thilakar Ground in Madurai, breaking the curfew. Police lathi-charged and fired at the people. Several lost their lives. Many more were injured. Iyer was arrested for breaking the curfew and for instigating people to protest against the British government. He was sent to the Alipore Jail.
While Iyer was still in jail, his eldest son died. The news reached Iyer two weeks later. Iyer came out on parole and performed the last rites for his eldest son. Before the end of his parole period, Iyer had his elder daughter Sulochana married.
After six months, Iyer was released from Alipore Jail. But he was arrested at the entrance of the jail and taken to Thanjavur Jail and later moved to Vellore Jail. In 1945, as part of a general amnesty, Iyer was released from jail and he continued his occupation as an advocate.
Iyer continuously strove for cooperation between Hindus and Muslims in Madurai district. Like Gandihiji Iyer too did not like the formation of a separate country called Pakistan. However, the country was split into two – India and Pakistan. India attained independence on 15 August 1947. Though the whole country celebrated the occasion, the joy of leaders like Gandhiji and Iyer was tinged with sorrow at the division of the country.
Madurai Meenakshi Amman Temple Entry
Apart from Iyer's involvement in the freedom struggle, the temple entry movement conducted by Iyer was the epitome of his contributions towards social harmony and the rights of Dalits.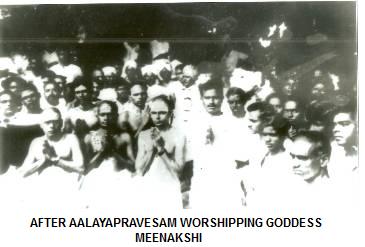 In 1932, Gandhiji and Dr. Ambedkar signed the Pune Pact. As per the pact, conferences and public meetings were conducted all over the country for the rights of Dalits. At the same time, the King of Travancore wanted to abolish untouchability and he announced that from 12 November 1935 onwards, every Dalit would be able to enter all Hindu temples within his kingdom. Following this, Dalits entered the temples without fear and worshipped God. On hearing the news that untouchability had been abolished in Travancore, Iyer felt happy and motivated. He started conducting many public meetings and conferences for temple entry all over Tamil Nadu.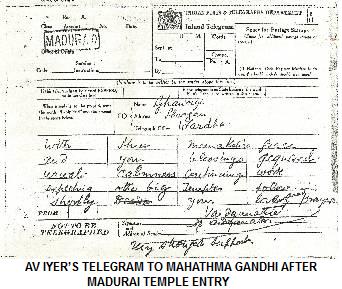 Along with Iyer, M.N.R. Subburaman, Dr. G. Ramachandran, Somasundarabharathy, Manakkal Pattabiramaiyer, Cholavandan Chinnasamy Pillai and Mattaparai Venkatrama Iyer, among others, worked hard for the temple entry movement in Madurai.
In June 1939, during the temple entry conference held in Madurai, Iyer announced that temple entry would definitely happen. After that, conferences were conducted for and against temple entry all over Madurai for a whole month. The members of the Meenakshi Amman Temple Trust and its chairman R.S. Naidu supported this reform.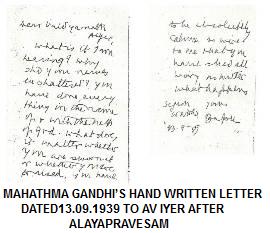 On 8 July 8 1939 a historic event took place. On that day, Iyer went to Meenakshi Amman temple with a group of Dalits and members of other castes. At the entrance to the temple, they were honored by R. S. Naidu, who had made proper arrangements for them to worship the main deity of the temple. After this, Iyer announced that temple entry for Dalits had happened successfully.
On hearing the news, the Brahmin community, under the leadership of Natesa Iyer, announced that Iyer and his family were no longer part of their community. Natesa Iyer also announced that Goddess Meenakshi was no longer in the temple. He placed an idol of Meenakshi Amman in front of his house for public worship.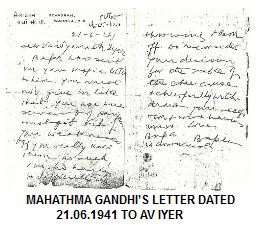 Rajaji was then the Chief Minister of Tamil Nadu. He thought that the temple entry movement would create a revolution in society. In September 1939, he had the bill for temple entry passed in the Legislative Assembly and it became law.
Following the Meenakshi Amman temple, temple entry took place in the Azhagar temple and the Thiruparankuntram, Thiruvarangam, Pazhani and Srivilliputhoor temples before December 1939. Rajaji supported Iyer to a great extent to make the temple entry movement a great success.
Temple entry movement was one of the great reforms instrumental in abolishing untouchability, and Iyer's contribution towards this is highly laudable as he fought against several odds to achieve this.
Contribution as Member of TN Legislative Assembly
In 1946, due to compulsion from Gandhiji, Sardar Patel and Rajaji, Iyer contested and won the Legislative Assembly election from Madurai – Melur constituency. Iyer was not fond of political posts; he later refused an offer to become a minister in the Tamil Nadu government.
Iyer's speeches in the Legislative Assembly were keenly noted for the appropriate legal points he referred to. His brilliant and excellent thoughts on the temple entry movement, welfare of Dalits, new government policies, education and women's welfare and constitution bills reflected his honesty and his interest in people's welfare. His amendments to various bills were very often accepted in the Legislative Assembly.
Iyer did much good work as the chairperson of the Tamil Nadu Harijan Sevak Sangh. His speeches on the report submitted by the Harijan Upliftment Committee drew the attention of everyone.
The commendable speeches made by Iyer in the Madras Legislative Assembly were compiled by Professor P. S. Chandraprabu and released as a book titled "Voice of a Great Soul" by Gandhi Memorial Museum, Madurai.
Hospitality and Helpful Attitude
In those days, with no proper guesthouses, whenever Congress leaders visited Madurai, they would stay in Vaidyanatha Iyer's house.

Leaders like Babu Rajendra Prasad, Vallabhbhai Patel, Kamaladevi Chattopadhyaya, Madan Mohan Malaviya and Jamanlal Bajaj used to stay at his home during their visits to Madurai.
When the freedom fighter barrister George Joseph was released from prison, there was no one to welcome him. On hearing this, Vaidyanatha Iyer rushed to welcome him and brought him home. He gave him Khadi clothes to wear and also arranged for his travel to Kerala.
When Durgabai (later Durgabai Deshmukh) was released from prison, Iyer welcomed her home and took good care of her. He gave her Khadi clothes and helped her to travel to her native place.
During floods in Vaigai River and when fire broke out in Thaikal, Iyer and his volunteers rushed to the spot and undertook all necessary relief measures.
When a Nationalist volunteer named Karupaiyaa Bharathi was murdered, Iyer collected funds from the villagers and bought a house for Karupaiyaa's mother and for his brother's family.
Iyer protected EVR Periyar
Dravidar Kazhagam conducted a conference on the northern bank of the River Vaigai in 1946. Some followers of Dravidar Kazhagam entered Meenakshi Amman temple and made negative remarks about the idols there. This provoked the people of Madurai and they chased away the Dravidar Kazhagam volunteers up to the entrance of the conference and set fire to the thatched venue. They also surrounded the Dravidar Kazhagam leader EVR Periyar at Shenoy Nagar, where he was stationed. The situation became tense, and the police could not control the angry mob. On hearing this, Iyer rushed to the spot, pacified the public and arranged for the safe travel of EVR Periyar and other Dravidar Kazhagam leaders.
Touching People's Lives
Iyer was married at the age of 18. His wife Akilandam was 9 years old then. The couple did not have children for 12 years. Young Iyer, who was thriving professionally at that time, was put under pressure by several people to re-marry. Some relatives offered their daughters in marriage. But Iyer was clear in his stance: "After marriage, the only support for a woman is her husband. Whatever the problem be, it is the duty of the husband not to abandon his wife till the end".
By the grace of the God, they later had three sons named Sundarrajan, Sankaran and Sadasivam and two daughters named Sulochana and Savithri.
Iyer always thought that disagreements between parents and children disturb the harmonious life of young couples. He believed that patience is a virtue and eventually, when children / grandchildren arrived, the bonding would happen.
Vaidyanatha Iyer used to give advice with examples and provide guidelines to couples to lead a life without disputes. He helped o several families through his able counselling.
As soon as Iyer started earning, he made arrangements to provide educational help, especially books, to poor students. He often tearfully acknowledged the pain and helplessness of the bright and eager students who could not afford to go to school.
Khadi was a passion with Iyer. If people expressed their desire to wear Khadi clothes but could not afford it, Iyer would send a slip to the Khadi Shop to provide them with clothes at his expense.
Service to the people of his constituency
From 1946 till 1951, Vaidyanatha Iyer served the people as Member of Legislative Assembly (MLA) of Melur constituency. He fulfilled the basic needs of the people and established several Public Health Centres to combat the frequent occurrences of plague and cholera. He built educational institutions in several villages. He also had wells dug to deal with the water scarcity problem all over his constituency.
When Melur constituency was hit by a severe drought, Iyer deployed several huge water pumps to bring in water from Thekkady Dam to the Vaigai river. He thus saved thousands of acres of agricultural crops and the lives of thousands of cattle. These incidents earned him the love and respect of the people of his constituency.
Iyer heard the grievances of the people and resolved them as soon as possible. Whenever Iyer had time, he would visit villages to understand the grievances of the people. He was a simple man and got along well with people. Due to this, Iyer had great influence over the common people.
In Melur constituency, Iyer's words were treated as final. Iyer's thoughts on all kinds of issues were accepted unanimously. The people of the constituency worshipped him for his social service.
Last Days
Iyer devoted himself entirely to the freedom movement and served socially depressed people and the people of his constituency to his fullest without caring for his own health. He did not contest in the next election conducted in 1952 due to his deteriorating health. But ignoring his physical debility he continued his hectic public life. Hence, in his last days, even the best of medical intervention could not save him.
Iyer passed away on February 23rd of 1955.
After Iyer, socially depressed classes of Madurai became directionless about their future. Unable to bear the loss of Iyer, his best friends like Rajaji and other Congress leaders shed tears. The people of Madurai and also other parts of Tamil Nadu were dismayed by the news and congregated in Madurai to attend the funeral. Shops were closed, public transport was stopped and the whole city mourned his death.
Vaidyanatha Iyer served society in many dimensions as a selfless martyr, a braveheart, a humanitarian gentleman, a very great patriot, a true Gandhian, a protector of socially depressed classes and a reformer of Indian Society. He was a role model to the youth as a leader who served selflessly and enriched the lives of other people.
Homage to Vaidyanatha Iyer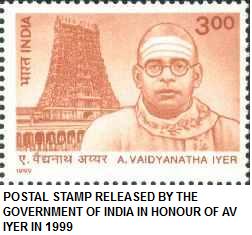 A postage stamp was released by the Government of India on 9 December 1999 in memory of his active participation in the Indian Independence Movement, his involvement in empowering Dalits and his service to society.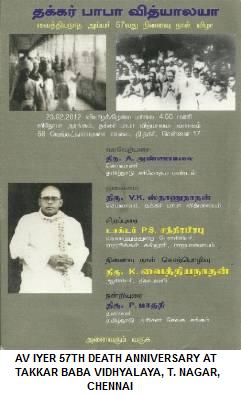 The Tamil Nadu Harijan Sevak Sangh published the biography of Vaidyanatha Iyer as a book titled "Harijana Thanthai Amarar Vaidyanatha Iyerin Vazhkai Varalaaru (Biography of the Immortal Vaidyanatha Iyer, Father to all Harijans)". The book was written by Professor P. S. Chandraprabhu in 1991. A new edition of the book has been brought out in March 2012.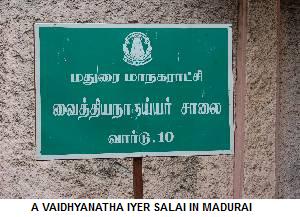 A Street in Madurai is named after Vaidyanatha Iyer, so that he will remain forever in the hearts of the people of Madurai.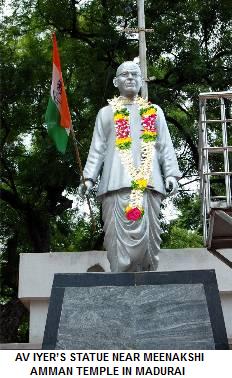 Every year, on Iyer's death anniversary (February 23), people pay their respect to him by garlanding his statue. Every year on the anniversary day, respects are paid to his memory at Chennai Thakkar Baba Vidyalaya School and Madurai 'Sevalayam', which was started by Iyer in 1932 to serve Harijans.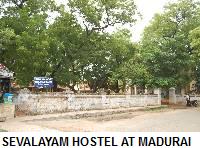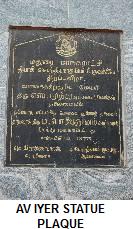 Gallery of Rare Photos
Source Material
Books and Publications on A V Iyer
Details gathered from the close relatives of A V Iyer